Lynchburg Tow Company Recovers Truck After MASSIVE Crash
Working in a tow company means that you are witness to the aftermath of many terrible accidents. Oftentimes, by the time first responders call a tow company in for help, the driver of the vehicle has already been taken to hospital. 
When Bee Line's recovery team responded to an accident in the Brookneal area, their thoughts immediately went to the driver of the truck they were assigned to recover. The refrigerated truck had been driving in Brookneal when, all of a sudden, a car drove into his lane! The car in question passed over double yellow lines in order to attempt an overtaking maneuver on another car.
After a huge head-on collision, the truck swerved off the road and into an embankment. The tow truck drivers took in the scene. The crash was so violent that a tree impaled the trailer. The truck was now sitting in a bushy area, seemingly totaled.
Against all odds, the truck driver was still on scene and completely uninjured! The towing team had the pleasure of his company throughout the recovery process. While the crash was horrific, the team was incredibly relieved to see the driver in good spirits. 
The team went to work, cutting down branches and clearing the brush so they could easily access the truck. Using two 65-ton rotators, the tow truck team expertly recovered the truck. Fantastic work out there!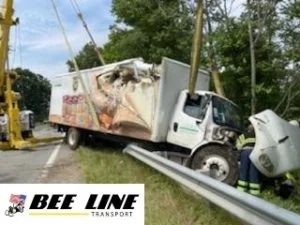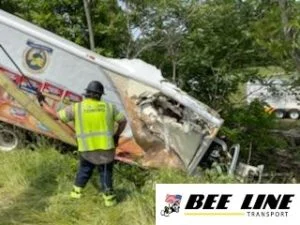 Details of Lynchburg Tow Company Recovers Truck After MASSIVE Crash
Bee Line Tow Company's 24 hour dispatch center responded to a phone call. The tow company was needed at the site of an accident in Brookneal, VA. Two rotators and 6 personnel were immediately dispatched to the site of the accident on the US-501.
The tow company arrived at the scene of the accident and assessed the situation. A refrigerated truck carrying a load of hotdogs was driving through Brookneal, VA. Unbeknownst to him, a car in the opposite lane was about to attempt a dangerous overtake over yellow lines. The car swerved into his lane and the truck driver did not have time to react. 
A tow company was needed to assist in the recovery as the truck now found itself in an embankment. The first thing the tow company did was clear out the trees and brush around the accident site. This would give the tow company easier access to the truck. 
The first rotator pulled the truck halfway up and kept it stable in the air. This allowed the tow company's second rotator crew to be able to hook onto the front of the trailer. Working in unison, the tow company's rotators spun the tractor until it was facing the road. With the trailer in the right position, the rotators pulled the truck onto the road.