Heavy Truck Electrical Repair Service in Lynchburg VA
At Bee Line Transport in Lynchburg, VA, we offer a wide range of diesel truck electrical repair services to ensure your fleet stays on the road and operates at peak performance. Our services encompass everything from comprehensive diagnostic services that precisely pinpoint electrical issues to meticulous wiring repairs, battery replacement, alternator repair, lighting system maintenance, starter motor repair, fuse and relay replacement, and custom electrical solutions.
We're your go-to source for keeping your fleet running smoothly and safely. For common problems to unique needs, we provide custom electrical solutions tailored to your specific truck make and model requirements. Trust Bee Line Transport for all your diesel truck electrical repair needs; we're here to keep you moving forward.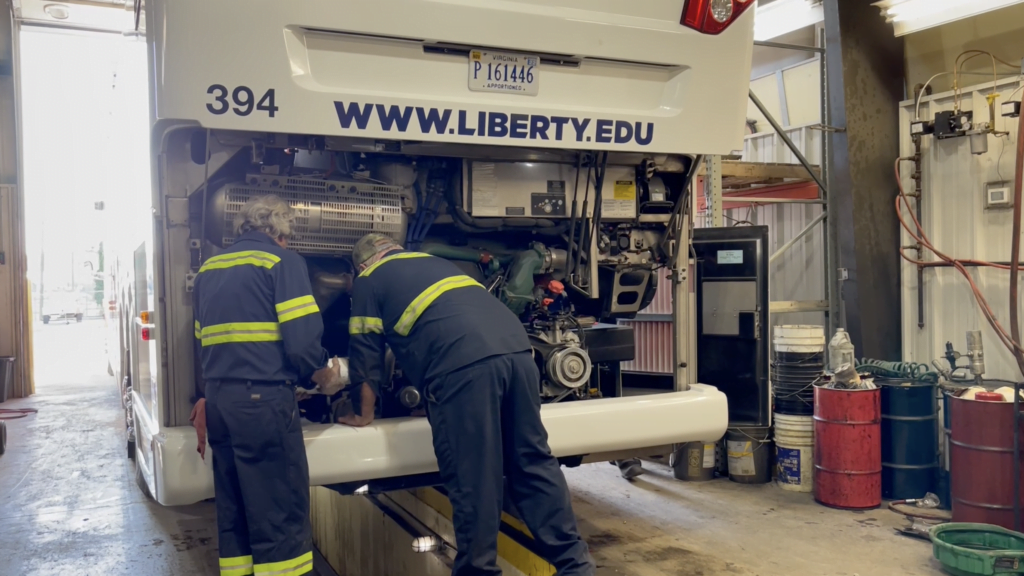 Understanding Your Truck's Electrical System
Your heavy truck's electrical system is akin to the wiring in your home – a network of circuits and wires connecting to various terminals. This intricate web of connections is critical to your truck's performance. If the battery powering your engine encounters any issues, your truck's functionality can be severely compromised. While these symptoms may not necessarily indicate imminent failure, they can be warning signs that your electrical system may be on the verge of trouble:
Reduced fuel efficiency
Inconsistent or fluctuating lighting
Flickering truck lights
Difficulty starting the vehicle
Loss of mobility for your truck
Blown fuses or malfunctioning tubes
The presence of a burnt wire odor
It is essential to address these issues promptly to prevent them from escalating into more complex and costly problems. Our team at Bee Line Transport specializes in heavy truck electrical services in Lynchburg, VA. We prioritize our customers and pride ourselves on our ability to diagnose and resolve the root causes of these issues. If you suspect your truck's electrical system is failing, don't hesitate to contact us for expert assistance. Your truck's reliability and your safety are our top priorities.
Common Electrical Issues in Diesel Trucks
Common electrical issues in diesel trucks can encompass a range of challenges that impact the vehicle's functionality. These issues often include problems with the battery, alternator, starter motor, wiring, and various electrical components. Signs of trouble may manifest as difficulty starting the engine, flickering lights, erratic dashboard warning lights, or even complete electrical system failures.
In diesel trucks, these problems can be particularly frustrating and disruptive, as they can lead to costly downtime and potentially compromise safety. Timely diagnosis and skilled repair by experienced technicians are essential to keep these issues at bay and ensure the reliability and performance of diesel trucks on the road.
At Bee Line Transport in Lynchburg, VA, our truck electrical repair service addresses common electrical issues that heavy-duty vehicles frequently encounter. We excel in identifying these problems through comprehensive diagnostics, ensuring the continued reliability of your truck's electrical system. Our commitment is promptly addressing these issues, preventing minor problems from escalating into costly breakdowns. Count on Bee Line Transport for efficient and effective diesel truck electrical repair solutions, allowing you to hit the road once more.
Why Choose Bee Line Transport?
Choose Bee Line Transport with confidence, as we stand out for our unparalleled expertise and extensive experience in the transportation industry. As Lynchburg's trusted repair shop, we've built a solid reputation based on our commitment to quality workmanship and unwavering dedication to putting our customers first. When you choose us, you're choosing a team that combines knowledge, experience, and a customer-centric approach to ensure your transportation needs are met and exceeded.
We take immense pride in being your go-to choice for all things transportation. Our roots in Lynchburg run deep, and we always aim to prioritize your needs and preferences, working closely with you to tailor our services to your unique requirements.
When you choose Bee Line Transport, you're choosing a partner dedicated to delivering top-notch results and unmatched customer satisfaction, making us the right choice for all your diesel truck electrical repair needs.
Our Diesel Truck Electrical Repair Process
At Bee Line Transport, we understand the critical importance of a well-maintained electrical system in your diesel truck. Our comprehensive service is characterized by a meticulous diagnostic process that utilizes state-of-the-art equipment to conduct thorough inspections and accurate troubleshooting. We take pride in our commitment to using high-quality parts and components, coupled with the expertise of our skilled technicians, to deliver efficient and effective repairs. Whether it's a challenging electrical problem or routine maintenance, we're dedicated to ensuring your heavy-duty vehicle remains reliable and ready for the road.
Frequently Asked Questions About Diesel Truck Electrical Repair